Southwestern Pennsylvania has vigilant allies when it comes to monitoring the air quality of our region.
CMU's Center for Atmospheric Particle Studies (CAPS) drives two programs that assist us in understanding how air pollution circulates through the city and neighborhoods.  One program, funded through EPA's Air Pollution Monitoring for Communities, is one of six such projects in the country. The other is funded by The Heinz Endowments.
What makes these monitoring programs unique is their contribution to our overall understanding of air pollution. The Breathemobile is packed with scientific instrumentation that provides real-time analysis of local air quality in Allegheny County and beyond.  They produce insights into how pollution travels from point sources and through neighborhoods.
RAMPs, short for Real-time, Affordable, Multi-Pollutant, give the region an inexpensive and flexible way to measure EPA monitored pollutants on a wide geographic scale.  This scale is more geographically dispersed than the monitoring system operated by the Allegheny County Health Department (ACHD).
RAMPs measure criteria air pollutants, which have limits specified in the Clean Air Act for carbon monoxide (CO), nitrogen dioxide (NO2), sulfur dioxide (SO2), Ozone (O3) and fine particulate matter (PM2.5).
The Breathemobile assists researchers by filling in some of the gaps in air quality research, says Albert Presto, associate research professor in the Dept. of Mechanical Engineering and a member of CAPS. One example was the black carbon mapping created by CAPS of the Monongahela Valley. 
The "heat" map, a blue and red map that highlights high concentrations of pollutants such as black carbon and ozone, served as an integral component of Dr. Deborah Gentile's asthma study in Clairton, Pa. Gentile's study found that children living near the Clairton Coke Works were exposed to the highest levels of air pollution and had nearly double the risk of asthma diagnosis as well as poorly controlled asthma. 
"In recent years, the trend has been to understand air pollution on a local level, the spatial patterns and the differences that exist from neighborhood to neighborhood," says Presto. "For the map, we drove the mobile lab around the same two blocks over and over again. To fill in the spaces we didn't visit, we used a spatial interpretation called Land Use Regression (LUR). The idea is you can relate what you measure to how the land is used, which helps to create statistical models."
RAMPs are offering new insights on neighborhood air quality, such as the historically high concentration of sulfur dioxide found in the Mon Valley. The program relies on local residents who volunteer to mount monitors on poles in their yards or on their roofs.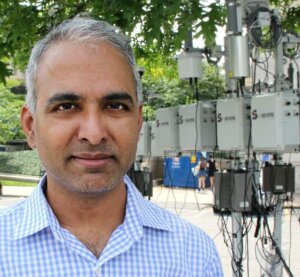 "SWPA and the City of Pittsburgh currently have 50 RAMP monitors up and running, making our region one of the most monitored in the country," says R. Subramanian who goes by the nickname "Subu." 
The EPA lacks fine-grained information about neighborhoods, which would be cost-prohibitive to obtain. Working with low-cost monitors allows CAPS to better understand the movement of pollution at a "hyperlocal" level.
With the help of Breathe Collaborative members ACCAN and BCMAC, the RAMPs program is expanding into neighborhoods near the former Shenango plant on Neville Island, the Cheswick Power Plant and beyond Allegheny County to sites along the Ohio River into Beaver where the Shell petrochemical plant is planned.
The program also operates RAMPs in Puerto Rico and Africa.
RAMPs are good for baseline readings because they record data around the clock and can be stationed in areas where plumes of pollution tend to settle, unlike more expensive, stationary monitoring. 
"The Pittsburgh region is an especially good place for RAMPs because of the hilly topography and the large volume of industrial emissions here," says Subu.
Location is key. The Allegheny Health Department's monitors might miss capturing pollutants on a given day while a RAMP will show a higher concentration in the same general region, he adds.
"Given the hilly terrain and weather factors, these plumes move around, which means there are often neighborhoods with higher pollution than what the ACHD monitor sees," says Subu. "RAMPs located in these areas allow us to see the plume (of pollution) moving around the valley."
"One of the goals of the program is to gain a better understanding of what drives differences in pollutant exposure. What can low-cost monitoring teach us? Will people, especially those with asthma, self-regulate if they know it's a bad air day?" asks Presto.
"It's improving our understanding of people's exposure to pollution and their source," says Subu. "When you understand the sources, you can think about effective policies to reduce that exposure."
Photo of Dr. Albert Presto courtesy of CMU.