"We Refuse to Die" – Public Ceremonial Ritual in Clairton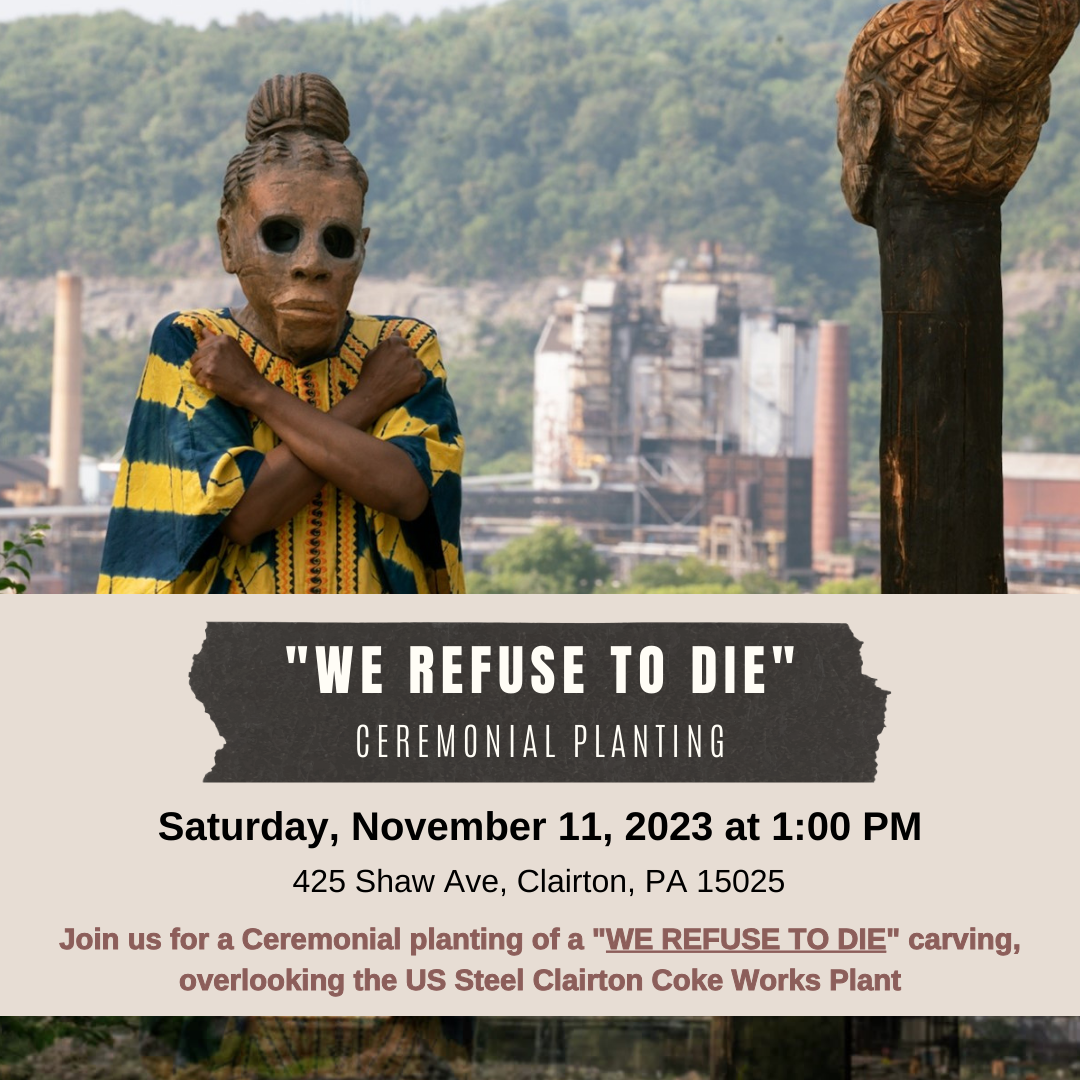 Organizer
Carnegie Museum of Art
The "We Refuse to Die" exhibition continues with a public ritual around the inaugural installation of an Externality carving, at the property of a resident living in proximity to polluting infrastructure in Clairton. At the ceremony, the carving will be planted in the ground, and local organizers, faith leaders, and community members will speak to the struggles they share with others across the country, and to those we have lost, the ancestors whose legacies we build upon.
WHAT: Ceremonial planting of a "WE REFUSE TO DIE" carving, overlooking the US Steel Clairton Coke Works Plant, the largest source of toxic industrial air pollution in Allegheny County.
WHERE: 425 Shaw Avenue, Clairton, PA, 15025. The event will take place outdoors, on the property of a local resident who has chosen to host this carving in her yard.
WHEN: Saturday, November 11, from 1:00 to 2:30 pm. (Ceremony + cultural program: 1pm-2pm. Mingling + refreshments: 2pm-2:30pm).
PROGRAM: Led by local residents, faith leaders and members of Black Appalachian Coalition, Ujamaa Collective, and the art/activism collective Not An Alternative (also known as The Natural History Museum, a traveling "museums for the movement").  Please stay tuned for an update with the full program, which features local speakers, libation and prayer, song, installation of the carving, and West African drumming/dancing.
ADDITIONAL DETAILS:
* This event is a ceremony and cultural program, not a protest. All are welcome.
* This event will be filmed. You are invited to wear white or black.
* Seats will be provided for elders and those with mobility issues.
* Hot beverages and hand/foot warmers will be provided for warmth.
* Ponchos will be provided to all attendees in the event of rain.
* There will be signs directing you where to park. Carpooling is encouraged where possible.