Tour de PAC (PA Action on Climate)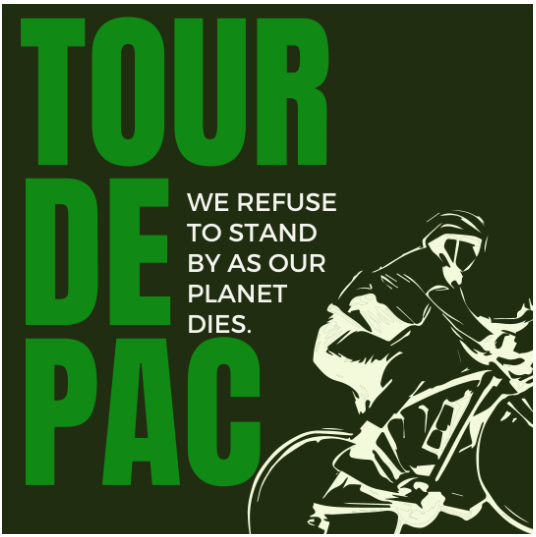 Date
Sep 21, 2023 - Oct 1, 2023
Organizer
Pennsylvania Action On Climate
Pennsylvania Action on Climate is committed to shining a bright light on the intersection of bad climate policy and corruption. And our newest venture, Tour de PAC, is a "vehicle" designed to put a human face on the consequences.
For 10 days in September, a core group of bicyclists will travel from frontline community to frontline community. We'll collect environmental impact statements from people harmed by climate-destroying decisions made by our legislators and governor. We'll share these stories with folks at the PA Climate Convergence – who plan to deliver these and others to our "leaders."
But that's not all. Change cannot happen unless we build a movement and we cannot build a movement unless we get to know each other. We must also make demands.
A goal of Tour de PAC is to begin to make those connections. We cannot begin to make change until we recognize that the people who are despoiling the water in rural Butler County are the same people choking the air in Chester. The people who are ready to dump radioactive fracking waste in Grove City are the same people who ARE dumping that waste in Lackawanna. The people who want to poison the air in Erie with a waste incinerator are the same people poisoning the people in Clairton.
And, because this is PAC, there will be a nonviolent direct action in Harrisburg at the conclusion of the Climate Convergence.
Are you ready to join this fight? We need riders willing to ride the entire "Tour," section riders willing to ride any portion, local hosts, people skilled in social media, fundraisers, bicycle mechanics, people to provide support (including someone to drive a sag wagon), web designers, people skilled with logistics, creative thinkers, musicians, artists, poets – you name it.
Please join in. RSVP, respond by email ([email protected]) or call (724-431-8560)
View the FULL MAP HERE