"Little Amal" Walk Refugee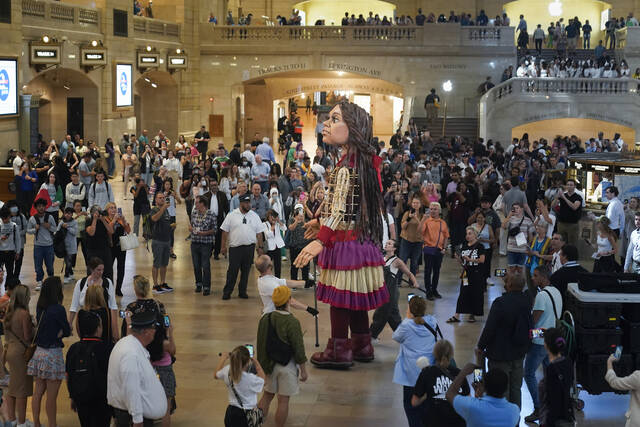 Little Amal is the 3.5m puppet of a 10 year old Syrian refugee girl, who has travelled over 9,000km to 15 countries with her message of hope and solidarity for displaced people everywhere.
This fall, between 7 September and 5 November 2023, she will journey 6,000 miles across the United States in one of the largest free public festivals ever created. More than 35 towns and cities from Boston to San Diego and 1,000+ artists and arts organizations have created 100+ events to welcome her.
From September 20th to the 21st Little Amal will be coming from Washington DC to Pittsburgh to walk through multiple historical sites in our city:
September 20th @ 12pm – Take the "Jitney" train

The streets of downtown Pittsburgh come alive for Amal, through the music of Billy Strayhorn and the words of August Wilson.
In partnership with August Wilson African American Cultural Center, Pittsburgh Public Theater and Pittsburgh Cultural Trust.

September 20th @ 7pm – Ghosts in the furnace

As the sun sets, Amal stumbles upon Carries Furnace, a hulking remnant of Pittsburgh's steel-forging past. There are spirits here. Are they frightening or friendly?
In partnership with RealTime Arts

September 21st @ 10am – I hereby declare that I'm only 10

Amal celebrates with brand new U.S. citizens as they complete their Naturalization Ceremony.
In partnership with City of Pittsburgh Mayor's Office (Office of Immigrant and Refugee Affairs – OIRA), U.S. Citizenship and Immigration Services (USCIS), Bhutanese Community Association of Pittsburgh (BCAP), Immigrant Services and Connections (ISAC) and City of Pittsburgh Human Resources and Civil Services (HRCS).

September 21st @ 12pm – Play in peace

As she walks across the North Shore's Great Lawn, Amal sees a group of children gathered together for World Peace Day. She wants to join in but as she approaches the group bureaucrats rush in to stop her…
In partnership with Office for Public Art, Cheryl Capezzuti, Kellee Van Aken, Attack Theatre, Colonel Eagleburger's Highstepping Goodtime Band, 4th and 5th grade students and teachers from Falk Laboratory School at the University of Pittsburgh, The Global Studies Center at the University of Pittsburgh, Suz Pisano and Puppets for Pittsburgh.

September 21st @ 5pm – Imagination is my playground

Amal wants to play with kids in a playground in Wilkinsburg but none of the equipment is her size. But that doesn't stop her from inventing her own games…
In partnership with Casey Droege Cultural Productions and Hatch Arts Collective.

Next location is Cincinatti, OH 
It is always free to walk with Amal. To help make a difference The Amal Fund with Choose Love supports displaced children across the world. If you can, please make a donation today: chooselove.org/theamalfund