5th Annual 5Point Adventure Film Festival w/ 3 Rivers Outdoor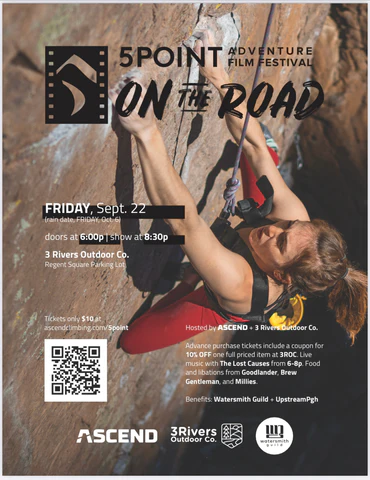 Venue
3 Rivers Outdoor Co
Organizer
3 Rivers Outdoor Co.
Starting at 6:00p, you'll be able to enjoy food from local Regent Square eateries, drinks from Goodlander Cocktails and Brew Gentlemen, ice cream from Millie's Tiny Van, partake in some fun activities, and relax while hanging out with friends from ASCEND, 3ROC, First Waves, Upstream, and more! You are also encouraged to check out the sweepstakes with over $1,000 in prizes and mingle while enjoying the festival atmosphere. Sweepstakes winners, announcements, and film screening to start promptly at 8:30p!
Please BYOC (bring your own chair) or blanket to chill on while watching the film.
Activities: While waiting for the film to start… we invite you to:
Play Corn Hole! No registration needed, just show, find some friends, and toss some bags.
Visit with our vendors:
– UpstreamPgh
– Rachel Carson Trails Conservancy
– Friends of the Riverfront
Listen to some live music:
Open Mic [6-7p]: We'll have a simple PA set-up and would love hear from you!
The Lost Causes [7-8p]: You know 'em, you love 'em.
Shop around at 3ROC: 10% off a full priced item for those buying tickets in advance.
Sweepstakes: Everyone will receive one sweepstakes ticket upon entry, but you may (and should, because this is the main fundraiser for First Waves!) purchase additional tickets to increase your chances to win and benefit a pretty rad local organization! Sweepstakes proceeds will be donated to local outdoor non-profit organization: First Waves – a Pittsburgh region non-profit project that uses standup paddleboarding (SUP), the art of filmmaking, and digital media as a catalyst to inspire conservation of local waterways and mentorship for at-risk youth.
Check out the film trailer