By Patricia M. DeMarco, Ph.D. (The following was reprinted with permission from Dr. DeMarco)

Presentation is on video by Blue Lens, LLC
Our beautiful, fragile, resilient Living Earth provides everything we need to survive and thrive. All the living things on the planet have co-evolved forming an interconnected web of life with a life support system that provides oxygen-rich air, fresh water, and fertile ground. The functions of the living earth – ecosystem services – support life with elegance and simplicity following the laws of Nature. These laws were discovered to human knowledge over many years but still hold many mysteries. The laws of Nature – the principles of chemistry, physics, biology, ecology- are not negotiable, whether humans acknowledge them or not. The human enterprise has brought the delicate balance of the natural world under acute stress in modern times. Overpopulation, resource extraction for minerals and materials, fossil fuel combustion, and hyper-consumption now threaten the stability of our existence. Global warming from the accumulation of greenhouse gases, especially carbon dioxide and methane; and global pollution, especially from plastics, now threaten life on Earth as we have known it.
If the goal of our entire civilization is to achieve sustainability for future generations, some adjustments must be made in the way people relate to the natural world. In a sustainable condition, "people meet the needs of today without compromising the ability of future generations to meet their own needs."[2]This condition of sustainability has a balance among environmental values, social and cultural values and economic values. In today's civilization, the economic values far outweigh environment and social values, leading to an increase in environmental degradation and social inequity. The damages are distributed unevenly around the globe, with those least responsible for creating the problem most affected by the results of climate change. The children, non-human living things and those unborn of the next generation will pay the heaviest price for decisions made today. Therefore, this is not a technology issue; rather it is a moral and ethical issue: are our decisions going to preserve the wealth and privilege of the fossil industry corporations, or will our decisions move to preserve a viable planet for our children?
Nothing characterizes modern life so well as plastic – long-lasting, resilient, malleable, diverse in applications and uses. We find plastic everywhere from food containers to personal care products, structural materials, fibers and finishes. Whether single use products like plastic bags or structural materials like car dashboards or PVC pipe, all plastics are made from materials found in fossil fuels- natural gas and petroleum. The plastics industry burst forth in the decade following the end of World War II when the industrial might amassed for munitions turned to domestic products like fertilizer, herbicides, pesticides, and plastics. Worldwide 8.3 billion tons of plastic have been produced since then, and over half of that material has been discarded as waste. The problem is only expected to grow as plastic production increases exponentially—from a mere two million metric tons annually in 1950 to more than 300 million metric tons today, and a projected 33 billion metric tons each year by 2050.[3]
Plastics are made of long-lived polymers, they do not break down easily in the environment, neither in landfills nor in the oceans. Plastics are not readily broken down by biological systems- they are indigestible and provide no nutrition when introduced into food chains. Nearly all the plastic ever made is still in the biosphere.Worldwide, factories produce 400 million tons of plastic per year, with plastic bottles produced at a rate of 20,000 per second.Globally, 60% of all plastics ever produced were discarded and are accumulating in landfills or in the natural environment. Americans discard 33.6 million tons of plastic a year; only 6.5% of plastic is recycled for re-use, and 7.7% is burned in trash to energy facilities.[4]Until 2018, most of American recycled plastic was collected as mixed waste and sent to China for processing. However, China is no longer accepting material with more than 1% contamination for recycling.[5]So, most of the plastic waste generated in America is now destined for landfill. Worldwide, plastic demand is expected to drive petroleum and natural gas production to use for feed stocks for many decades, especially to serve growing markets in Asia.
The ubiquitous contamination of the earth from man-made plastics presents a system problem. We need to seek a systematic solution.The problem of global pollution from plastics has three components: 1. Economic Issues; 2. Environmental and health issues; and 3. Ethics Issues.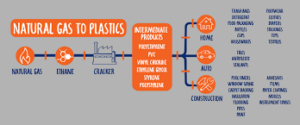 1. Economic issue: The entire plastics enterprise is based on taking fossil derived raw material extracted from natural gas and petroleum deep underground, refining the products and producing polymers, forming the polymers into the desired product, distributing and trucking to the wholesale and retail operations for a product that is often used once and discarded.
This system only works economically when fossil fuels are valued at a relatively low price, and no cost is imposed on the discarded or wasted material. This approach is entirely incompatible with a sustainable society. In many situations, the fossil extraction and production phases are heavily subsidized, and the single-use products are inexpensive to the users, or costs are unseen, as with plastic packaging or plastic bags at the retail check-out counter. In 2014, UN Environment Programme estimated the natural capital cost of plastics, from environmental degradation, climate change and health, to be about $75 billion annually.[6]As of 2018, the hydraulic fracturing sector of the oil and gas industry continued its nine-year streak of cash losses. In 2018 Third Quarter, a cross section of 32 publicly traded fracking-focused companies spent nearly $1 billion more on drilling and related capital outlays than they generated by selling oil and gas.[7]The fracking industry is anticipating the ultimate sale of gas liquids for plastic production in refineries, such as the proposed Shell Appalachia Project, to generate positive revenue from sales of plastic pellets for production of consumer goods, many of the single-use packaging like plastic bottles, bags and flatware.
2. Environment and Health Issue
Many plastics and by-products of their production are directly toxic to humans and other living things. Some are also disruptors of endocrine functions, such as by mimicking hormone activity yielding results that over-stimulate or suppress normal hormone functions. Such compounds have been associated with reproductive and developmental disorders, obesity, fertility, and neurologic disorders. Over 80,000 synthetic chemicals are in common commercial use; of these only 200 have been directly tested for health effects. It is nearly impossible to avoid exposure to chemical contaminants- they are in BPA plastic packaging for food and containers, in consumer products phthalates and parabens as well as plastic microbeads are common; fire retardants in upholstery, curtains, and electronics expose people to PBDE (Poly-brominated di-phenyl ethers), and residues of long abolished chemicals like PCB (used in insulation oil for transformers and banned in 1979) continue to contaminate the food chain.[8]
Should we be concerned? Industry advocates argue that there is no "proof of harm" that any particular chemical caused a specific instance of illness or disease. But human epidemiology studies are uniquely challenging because individuals respond differently to the same exposure, and the effects can vary widely for children, elderly, and especially unborn fetus development.  Furthermore, people are not exposed to one chemical at a time but experience a chemical stew of myriad chemicals, some without their knowledge. The use of animal models where some of the variables can be controlled present problems as well, especially in court where the industry defense can argue that animals are not exactly like humans, and reasonable doubt prevents a clear ruling of harm. The burden of proof is on the consumer, and the case is rarely successful.[9]
People are exposed as minute quantities of potentially harmful materials are magnified through the food chain. Observations in the field conflict with rosy promotion of the benefits of plastics. Attempts to move legislation to protect consumers and prevent widespread exposures to questionable materials become bogged down in a regulatory quagmire. Citizen action groups use information campaigns and argue for better testing, but as industry experts infiltrate the regulatory agencies, the credibility of government agencies is eroding.
3. Ethics Issue 
The entire matter of global pollution, especially from plastics products and the by-products associated with their production, is a question of moral commitment to preserve the life support systems of the Earth, or to allow destruction of the living part of the planet for the sake of short-term profit for a very few corporate interests.  It is really a matter of asserting the right for life to EXIST! The surge in plastic use, especially single-use plastics like plastic bags for purchased items, developed as a consumer convenience. But we are seeing now the unintended consequences of convenience. But is it really from convenience that we see 48 tons of garbage, mostly plastic containers and packaging, left in the parking lot after a concert?[10]Is this convenience, or is it really a consumer sense of entitlement and total oblivious disregard for the consequences of their actions? The freedom to act as we wish without the sense of responsibility for the consequences of our actions yields chaos. As we see the cumulative effects of single-use plastics in the environment, in fish and sea creatures, and even in human bodies, we must begin to question the obligation to control this material at its source. Recognizing that the source is a fossil-based feed stock, the need to re-think plastic reaches a higher plane. Are we killing our planet for convenience?
II. Solutions: 
As horrific images begin to filter into the media, people are beginning to move from awareness to action. The plastic problem will not go away without fundamental changes in expectations and the reality of packaging and single-use materials. According to a United Nations Environment Programme study: "To get the plastics problem under control, the world has to take three primary steps. In the short- term society needs to significantly curtail unnecessary single-use plastic items such as water bottles, plastic shopping bags, straws and utensils. In the medium -term governments need to strengthen garbage collection and recycling systems to prevent waste from leaking into the environment between the trash can and the landfill, and to improve recycling rates. In the long run scientists need to devise ways to break plastic down into its most basic units, which can be rebuilt into new plastics or other materials."[11]Three kinds of solutions present good options for re-thinking how we develop, use and dispose of plastic:1. Restructure the Value System;2. Use Green Chemistry to prevent environmental and health harms;3. Take precaution in protecting living systems. 
1. Restructure the Value System
To the consumer, and to many manufacturers, plastic looks cheap. The price of the oil or natural gas liquids used as feed stocks for plastic are way too low, compared to the actual cost to extract, refine, process and transport the plastic products.  And, it is cheaper to produce plastic from virgin material than from recycled plastics because recycled material needs to be cleaned, sorted, and is difficult to define precisely.  Plastic was designed to melt at temperatures lower than metals, so metal molds can be used repeatedly to shape plastic into products, conserving the capital needed for the machinery, while using a relatively cheap ingredient. Oil and natural gas have significant price supports for extraction and production embedded in the laws, tax treatments, and land uses that have supported the supremacy of mineral rights since 1837. These subsidies have kept the apparent cost of fossil based products artificially low.[12]The system is set up to reward manufacturers for producing products in the form of profits, but to impose the cost of disposal of waste on the taxpayers. The system gives economic incentives for turning raw (fossil) material into trash as rapidly as possible. Thus, the cost of the entire life cycle of the plastic is not included in the price of the product. If the full life cycle cost of the extraction, production and disposal or recapture of the plastic were included in the price the consumer sees, plastics would not seem so inexpensive, and there would be a greater incentive to avoid waste. In a circular model of materials management, incentives for designing products to be re-used or recaptured and re-purposed would reduce the waste.
Plastics also seems inexpensive because much of the cost of their production and use is not counted at all. The Gross Domestic Product, one of the most common measures of the economy, does not include the value if services provided by the living earth… essential things like producing oxygen, regenerating fresh water, and providing food, fuel and fiber from natural materials. The Gross National Product as measured for the global economy is about $19 Trillion (US Dollar equivalent) while the services provided by ecosystems have a value of $33 Trillion globally.[13]By comparison, the global plastics industry is valued at $1.75 trillion, growing at an expected 3% annually.[14]The degradation of ecosystems and ignoring the value of essential services we take for granted has allowed products like fossil fuels and plastics derived from fossil origins to seem cheap, when in fact, their use is destroying the priceless life support system of planet Earth. The artificially cheap price of plastics has contributed to the hyper-consumption that is clogging our landfills and oceans with wasted materials that may never completely break down to innocuous components. One large part of the solution would be to adjust the value calculation to reflect the true cost.
2. Use Green Chemistry to prevent environmental and health harms
Just as plastics were engineered to resist breaking down, materials can be designed to serve useful functions without the biological and physical characteristics that make plastics a problem when they interact with living systems.  Risk to health and to the environment is a function of the inherent hazard and the exposure to the hazard. The current regulatory system that controls environmental and health risks from chemicals and materials is based on limiting the amount of exposure, or emissions into the environment. Thus, even very toxic materials can be deemed "safe" if they are limited to a very small release. Under this system, over 5.2 billion pounds of toxic or hazardous material is emitted into the air and water by permit each year.[15]Green chemistry takes the approach of designing chemicals and materials to have inherently benign characteristics. Thus, the risk is reduced by reducing or eliminating the inherent hazard itself, instead of trying to limit the exposure.