Celebrating Clean Water with Three Rivers Waterkeeper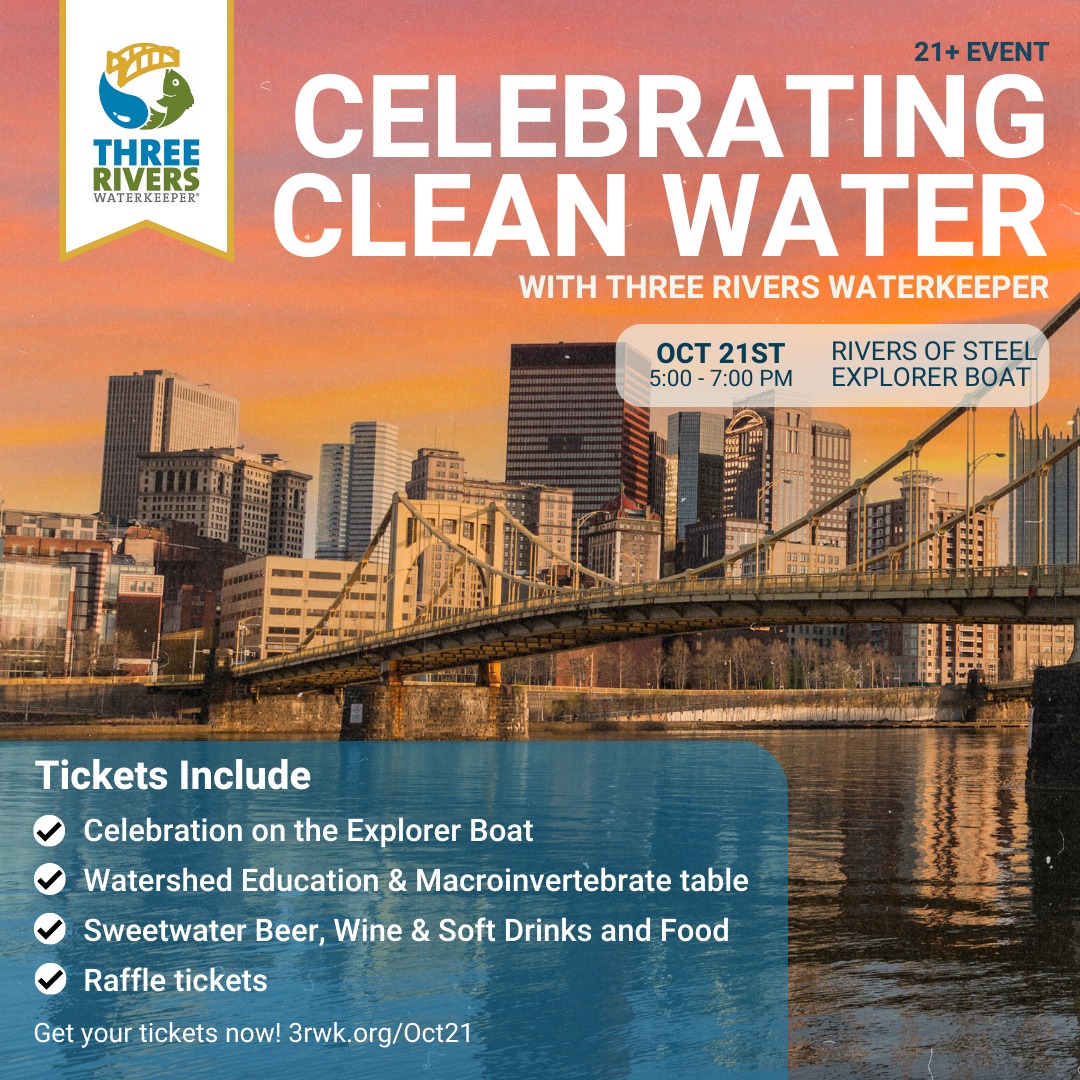 Venue
Rivers of Steel: Explorer Riverboat
Organizer
Three Rivers Waterkeeper
The Allegheny, Monongahela and Ohio Rivers make up the headwaters of the Ohio River Basin and provide drinking water to over 5 million people and support a variety of plant and animal life. These rivers suffer from a combination of legacy and novel pollution sources, the most common of which are acid mine drainage, combined sewage overflows, increased flooding and stormwater events, and industrial pollution. Nearly a third of our region's rivers and streams are considered impaired by the PA Department of Environmental Protection.
The Three Rivers Waterkeeper protects the drinking water of nearly five million people and the habitat of many animals and plants, including endangered species such as the salamander mussel. Over the modern history of our region, mass industrialization polluted our waterways, and our rivers became devoid of aquatic life. Fortunately, with the implementation of the 1972 Clean Water Act and subsequent clean water laws at the local, state, and federal levels, community organizations have been able to hold polluters accountable. As a result, we have seen wildlife come back to our rivers – including our national bird, the Bald Eagle. On or along the Allegheny River alone, the US Forest Service has documented over 50 mammals, 200 birds, 25 amphibians, 20 reptiles, 80 fishes, and 25 freshwater mussels. These waterways also serve as a source of recreation and a way to connect people to nature through positive experiences on our waterways. 
As your Waterkeeper based in Pittsburgh, they hold polluters accountable and ensure that our local, state and federal governments enforce the clean water laws which protect the public and environmental health. They combine scientific and legal advocacy to protect the water quality of the Allegheny, Monongahela and Ohio Rivers, and their respective watersheds. They are part of the Waterkeeper Alliance—a global movement of organizations working for clean, healthy, and abundant water for all people and the planet. They also partner with local environmental organizations to educate our community members, connect them to their waterways, and ensure clean waters for future generations. Protecting our waterways is critical to the health and economic prosperity of our region and to ensuring environmental justice for our communities.  
Proceeds from this event help us hold polluters accountable and provide free educational programming.
21+ Event
Tickets include:
Celebration on the Explorer Boat*
Watershed Education & Macroinvertebrate table
Sweetwater Beer, Wine & Soft Drinks
Heavy Appetizers provided by Farmer X Baker
Klean Kanteen Metal Pint Cup & Raffle tickets
Waste-Free dinnerware with Dianne's Dishware
There will also be a silent auction as well as additional raffle tickets and 3RWK swag for purchase!