"A New Vision for the Mon Valley 2024 and Beyond" Presented by the Battle of Homestead Foundation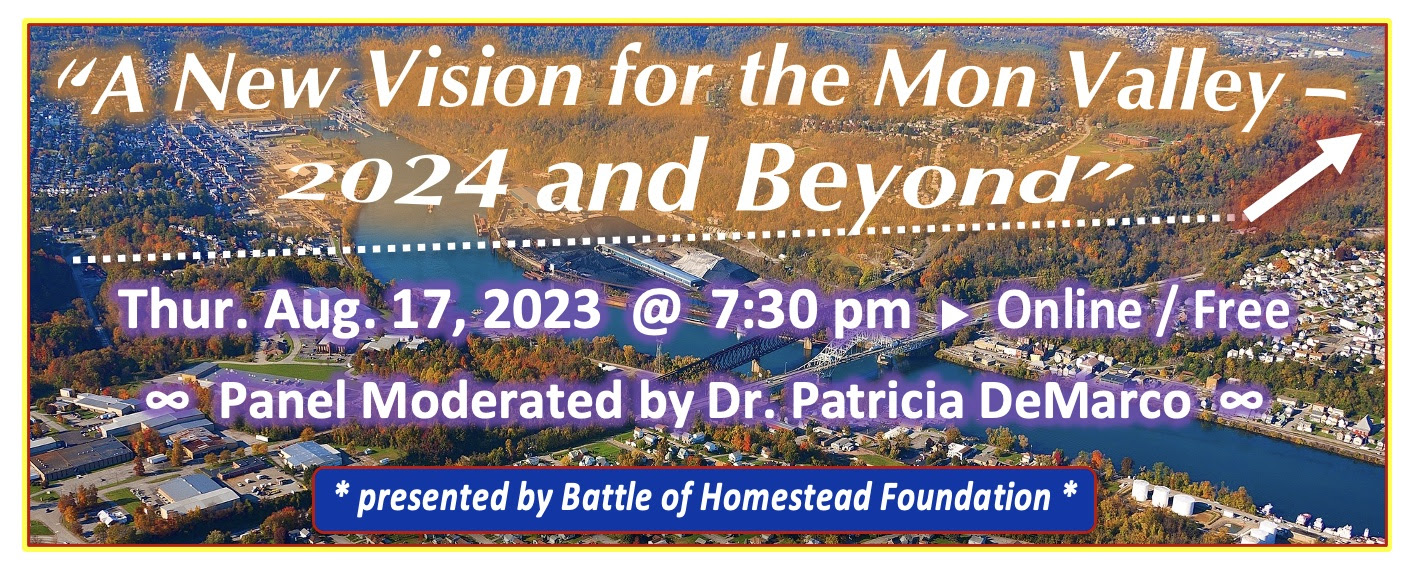 Organizer
The Battle of Homestead Foundation
THURSDAY, AUG. 17, 2023 @ 7:30 p.m. The Battle of Homestead Foundation presents a free Zoom program "A New Vision for the Mon Valley – 2024 and Beyond".
The 90-minute panel discussion with audience Q&A explores how the Mon Metro Chamber of Commerce and a coalition of companies and community organizations are working to bring new jobs and economic security to towns along Western Pennsylvania's historic Monongahela River Valley.
Moderated by Dr. Patricia DeMarco, the panel includes Mon Metro Chamber of Commerce president Tina Doose; EOS Energy Enterprises' Chad Fitzgerald; Breathe Collaborative director and environmental engineer Dr. Matthew Mehalik.
_____________________________
* Based in Braddock, PA, the Mon Metro Chamber of Commerce (MMCC) is a neighborhood hub of connection, resources, skill building and partnership. The MMCC is a membership organization that supports businesses, entrepreneurship with a focus on young entrepreneurs, nonprofits and the people who engage with these entities.
* The Battle of Homestead Foundation is an educational nonprofit promoting Western Pennsylvania's vibrant industrial and labor history starting with the 1892 Homestead Steel Strike and connecting with current labor issues involving economics, the environment, healthcare, racism and other social concerns.